27 September 2018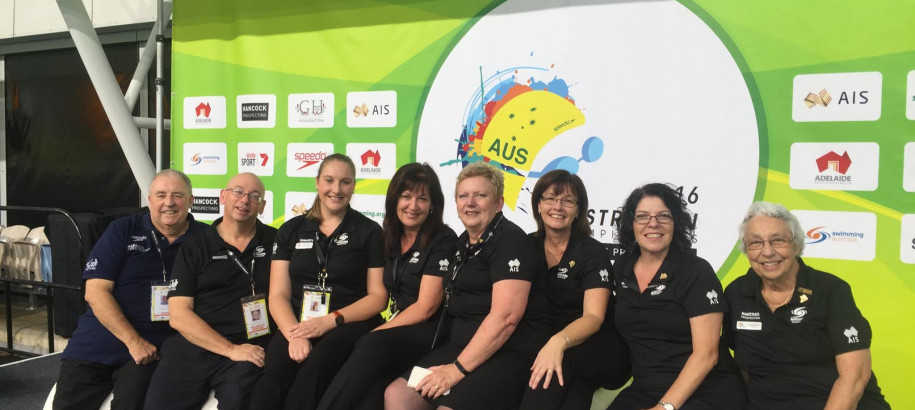 The Technical Committee met at regular intervals during the 2017-18 season with each meeting having a varied agenda. We have experienced many exciting events this year and also put in some hard work in finalising a review of the Event By-Laws which are read in conjunction with the Swimming Rules. We have also done some work with the updating of the Open Water Swimming (OWS) Rules and By-Laws but the completion of this is awaiting some updating expected from Swimming Australia Ltd. (SAL).
Our own OWS State Championships took a major step forward in our latest Championship event with the use of transponders to keep track of all the swimmers and record their times and placings. Of course we also used manual timing and placing using volunteer officials as an essential backup but the transponders allowed the processing of results to be more efficient.
The last Australian OW Championships were held in Adelaide at Brighton Beach. Fortunately the weather was kind and these Championships were very successful and also gave a number of SA Technical Officials the opportunity to be involved in a range of positions because the personnel involved changed for each event. Darren McLachlan had the opportunity to experience Referee at this top level and Stephanie McLachlan was a Starter. Due to heavy bookings for the West Lakes rowing course, SwimmingSA has arranged for our forthcoming Championships to be held at Brighton as will the next Australian OWS Championships in January 2019. In fact, South Australia will also host the Australian Age and Open Championships in April next year, all of which provide an opportunity for SA Technical Officials to nominate for appointment to these meets and thus increase their experience at the national level. This year Stephanie McLachlan and Max Richardson also had the experience of a lifetime in being appointed to officiate at the Commonwealth Games on the Gold Coast in April. We noted them on TV looking smart in their special uniforms. Jenny Phillips-Hughes was appointed as a carer at the Para Pan Pacs in Cairns while Elaine Laird was there as a Technical Official, an experience she greatly enjoyed..
The other big events hosted in Adelaide in the last year were the Pacific School Games in November and the Pan Pacific Selection Trials in early July. Again, a number of South Australian officials were appointed to these events (10 to the Pan Pac Trials). We also had the opportunity to have two very senior SAL officials visit during the Pacific School Games to mentor officials who are progressing through the officiating ranks. They ran interesting and challenging courses and were extremely helpful as mentors. Other SA officials participated in national events held interstate where Stephanie McLachlan was given another opportunity as a national Starter and Lorraine Burford as Referee. The training provided in this state for Technical Officials is at a high level but we do encourage more parents/guardians, senior swimmers and other interested persons to take advantage of doing one of the courses offered. Basic courses are available on line but the benefit of face-to-face training is well known so Clubs are asked to join with nearby clubs and arrange for a Trainer to run a course in their area.
Mentoring at a State level has also been encouraged. It is essential for all trainee Referees to have a Mentor but we would like to see most of those aspiring to a higher level of officiating to seek a mentor from among our Referees and other experienced officials. Three of our Referees undertook an Australian Sports Commission Mentoring course update run by the SA Office of Recreation and Sport during the year.
The Officials who accompanied the SA team to the State Teams Championship in Canberra in 2017 enjoyed the experience and those selected to attend in 2018 should enjoy the various opportunities offered to enhance their officiating experience.
We have reviewed the use made of the Swim Stroke Correction Forms for swimmers in events for ages 10 and under. Coaches reported they were happy with the forms, used them and did not see any need to change them. The DQ codes which are part of the Meet Manager recording of results have been updated in line with the actual DQ reports to make it easier for the computer operators to record the DQ. We have also agreed to use the backstroke ledges in Open Medley Relays but only for LC State Championships.
Referees are kept up to date with two seminars each year where various topics are covered to ensure that the thinking of all Referees is along the same lines. Following on from our recent meeting, the document on Process and Protocol for Assessments was reviewed and updated. Not all Referees are accredited Assessors and there is a need to get more people accredited to relieve the work load on the current Assessors. The Seminar also agreed that in line with national practice, we should also have ongoing informal assessment of Referees to again ensure that the actions and decisions made by Referees are consistent. The process will be further discussed at our forthcoming seminar. In addition to trainees Selma Barlow, Sue Pryor and Mark Branson we now have new trainees Peter Ryan, Chris Ekins, Michelle Whitaker, Max Richardson, Scott Watson and Rachel Butler who will be seen over the summer season.
One of our concerns is that sometimes clubs running open carnivals will put names against positions where unfortunately the named person has never done this role before. It is a big worry for the person concerned and also for the Referees who need to know that they can rely on the officials appointed to these roles. We know that it is difficult at times to find experienced persons and we applaud those who are willing to have a go but what we would like to see is that all appointed persons at least read the on line Learner Guides so that they know the basic requirements of that role and can ask the Referee about anything they don't understand before the meet actually gets started. Again this relates to the need for clubs to organise for training courses to be held. We do hold training courses every year at the Country Championships but there are some willing parents who do not go to these Championships and we would like to be able to offer them the same opportunity to be a good official as those who do the courses at the Championships.
Wet Feet, our communication circular for all technical officials has experienced a change of format this year. It now takes the form of a closed Facebook page Wet Feet (Technical Officials) which is open to all technical officials (and we encourage you to join) where items of interest are provided and some interesting old photos. Thanks to Tania Carlino and occasionally Deb Hombsch. Please join as it is your page and will contain important facets of information.
Finally, Gloria Owens has stepped down as Referee to take an indeterminate break and we thank her for her contribution as an official over the years. Heather Carbone has also taken a break from Referee training but we will still see her around pool deck. Keep up the good work, Heather. We also congratulate Anthony Couche on attaining Referee Level1 accreditation and Elaine Laird as Referee Level 2. In addition we have some officials who we consider are ready to take the next step to Level 3 and we have asked for national Assessors to attend our LC State Championships in January to review and recommend these officials for national appointments. We also have two senior officials who have been appointed to SAL working parties which place our officials in roles which can only help in the official development of our members. Congratulations to Darren McLachlan as a member of a working party on ensuring the future continuity of Technical Officials and to Selma Barlow as a member of the group considering the safe working environment for Technical Officials.