21 July 2019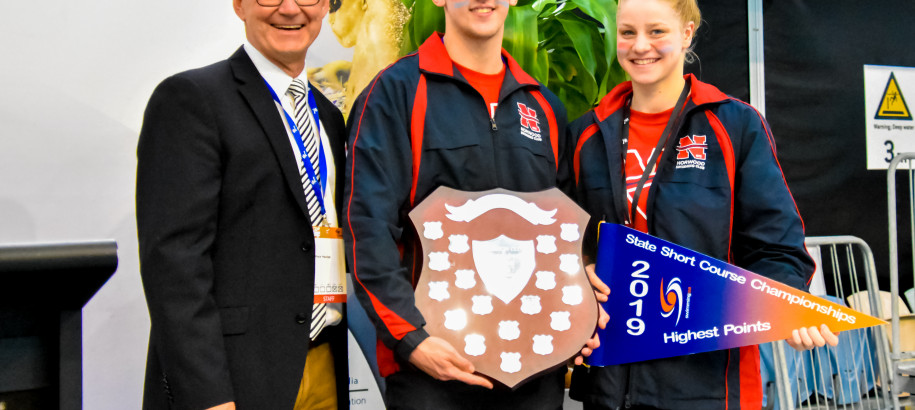 2019 State Team Selected
Congratulations to each and every swimmer who competed and achieved a personal best during the last 5 days of competition. A special thanks to all the mums, dads, officials, coaches and team managers who assist behind the scenes - such a wonderful meet is not possible without your efforts.
SwimmingSA is pleased to announce the 2019 State Team to contest the State Teams Championships in Canberra in October. The 29 strong team will be joined by 6 officials and team coaches for the trip. Best of luck to each of you.
Alana Williams                NWD                 
Cassie Brooks                  WEAQ               
Clancy Luscombe            MARI   
Declan Gillard-Martin     PAC      
Emilia Shea                      WEAQ                             
Emily Muir                       NWD                               
Emily Scown                    NWD                               
Emma Wootton              TTG                                 
Euan Stenhouse              TTG
Fergus McLachlan           NWD    
Harliai Curthoys -Davies BARO                              
Indyanna Rashleigh        NWD                               
Isaac Keighran                 NWD
Isabella Vincent              NWD
Jacob Gohl                       MARI
Jessica Jackson                KENT    
Kalyce Pressler                SCSC                               
Kenya Thomas                 SOPE                  
Lucy Nunn                       MARI                 
Mark Ducaj                      MARI
Matthew Pearce             NWD    
Mia Slade                         NWD                               
Molly Walker                   SOPE                  
Patrick Macie                  PAC
Shanelle Hancl                NWD                               
Sophie Healy                   NWD                               
Tara Young                      TTG                                  
Thomas Lightfoot           MARI   
SwimmingSA is pleased to release the comprehensive history of the Perpetual Trophies - to read more visit the history page on our website.
Congratulations to the following trophy winners:
- Norwood (Bayside Aquatic Shield)
- Marion (Frank Beaurepaire Shield)
- Brittany Castelluzo, TTG (Maidstone Trophy) 200 Fly
- Isabella Vincent, NWD (Matthew Cowdrey Trophy) 400 Free
- Shanelle Hancl, NWD (Peter Bowen Pain Trophy) 187pts
- Clancy Luscombe, MARI (Peter Bowen Pain Trophy) 259.5pts
- James McKechnie, STP (Presidents Trophy) 50 Breast