21 October 2021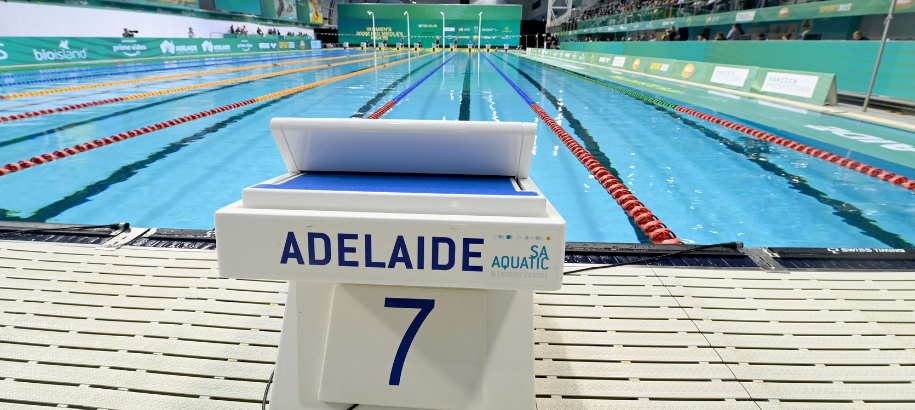 Australia's Olympic and Paralympic stars are set to return to South Australia early next year to vie for international team selection, with Swimming Australia confirming Adelaide will host two championship meets in 2022.
With two major international benchmark competitions being held next year for both Olympic and Paralympic programs – the Commonwealth Games and respective World Championships – coupled with the Universiade Games, the Australian Swimming Championships will act as a selection event and play a vital part in athlete preparation.
Hundreds of elite and aspiring athletes will descend on the SA Aquatic & Leisure Centre with the Australian Swimming Championships taking place between 4-9 April, followed by the Australian Age Swimming Championships which is scheduled for 11-18 April. 
The Age Swimming Championships will also allow our emerging stars to battle it out for spots on the Australian World Junior Team.
Swimming Australia's interim CEO, Eugenie Buckley, said she was delighted to confirm the South Australian location and looked forward to seeing the championships return to Adelaide.
"We're extremely pleased our sport will return to South Australia and be showcased at the impressive SA Aquatic & Leisure Centre," Buckley said.
"After an enormous year in swimming the next 12 months is set to be just as busy with two international events on the calendar, not to mention major junior events as well, so our Australian Championships will importantly act as selection meets.
"We're incredibly grateful and appreciative for the support provided by the South Australian Government and South Australian Tourism Commission who continue to invest in our sport, and thank them for hosting us again. It's clear this relationship is incredibly strong and continues to prosper year after year.  
"We'd also like to thank Swimming SA and the team at the SA Aquatic & Leisure Centre for their ongoing support, their assistance to get our events up and running is invaluable."
Minister for Recreation, Sport and Racing Corey Wingard welcomed the return of high-performance swimming to South Australia.
"On the back of Adelaide having hosted the 2020 Tokyo Olympic and Paralympic trials earlier this year, it is a huge coup for our state to host both the Australian Swimming Championships and Australian Age Swimming Championships in 2022," Minister Wingard said.
"While we can't wait to see our South Australian swimmers – such as Kyle Chalmers and Madison Wilson – take to the pool to compete for international selection, we also look forward to welcoming the thousands of competitors, families, coaches and supporters who will travel from across the country to take part in these events.
"Hosting these events puts Adelaide and South Australia on the map and thanks to the Marshall Government's more than $400 million investment in sport since 2018 continues to position us as a premiere sporting destination."
For more information visit Swimming Australia's event page. 
Selection criteria for all teams are in the process of being finalised and will be updated here when complete.