19 May 2020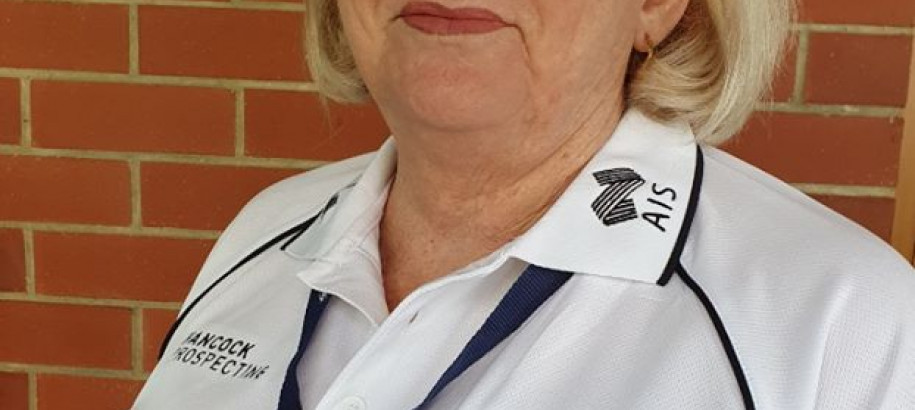 SwimmingSA is indebted to all the volunteers who give up their time to make our sport what it is. Our Technical Officials are are integral part of our sport and today we would like to introduce to you Lorraine Burford - Referee.
Many of you would have seen Lorraine on pool deck over the years but how much do you really know about her? Here's Lorraine's story...........

"As with most volunteers, I started my path in volunteering due to my children's involvement through school and sport. My time was initially spent assisting in the classroom helping students learn to read. When my girls started to play netball, I umpired for their teams for several years, thus developing a personal interest in that side of the sport. I progressed through several grades until the time the girls developed a stronger preference for swimming as their desired sport.

Swimming is a sport where parental involvement in volunteering is paramount. There are so many roles which need to be filled to ensure that each swimmer gets the best possible opportunity to achieve at his or her best, therefore if everyone does their small contribution, everyone benefits. In 1986 I began my career as a Technical Official as a 'rostered' timekeeper, the first official role that parents were expected to assume to help their respective clubs.

I also took on the roles of Secretary, Nominations Officer and Team Manager at club level, and later filled roles on State Development and Officials Committees, culminating in my being elected to the Board of SwimmingSA for a term of 4 years. During my daughters' time as club swimmers, I continued my rostered Timekeeping role and realised that I wanted to do more, initially to relieve some of the time spent sitting in the stands during a swim meet, but also to find out more about the sport itself. Who knew how much more interesting it is to have an active involvement!

I progressed to Judge of Stroke and Inspector of Turns, and in about 1999, when both daughters had finished swimming, I discovered that I had grown to really love my participation in the sport. I enjoyed the company of other volunteers, and the opportunity of seeing the progress of the swimmers and wanted to stay involved. I have since progressed through all of the required levels to eventually become a Referee, officiating at all levels from time trials, to the fun and enthusiasm of country meets and Club Carnivals progressing to National Championship, where I am working to attain Level 3 Referee status. This has included having the privilege of refereeing Cate Campbell when she set the 100m Freestyle Short Course World Record in Sydney in 2015. That was a great thrill!

I am now retired from the paid workforce and over the past few years have begun mentoring other up and coming officials, helping them to achieve their ultimate goals, another role I am enjoying. From a purely selfish point of view, being a volunteer Technical Official has given me the opportunity to perform my skills at an extremely high level, whilst being able to see some of the best swimming in this country by our best, and some of the world's best swimmers."